NAME AND CONCEPT

The word soccer is the name of the sports game of the millions from all continents. When we add the word indoor, we get the name of a sports game that significantly differs from the so-called soccer (Football Association) – it is played on the smaller fields, with fewer participants, with different rules and propositions on different substrates, in a different way ...
It can be said that the concept of indoor soccer, which is common in our language, is a term for the three types of indoor soccer that are played in the world nowadays - FIFA kind of indoor soccer (futsal), American kind of indoor soccer (indoor soccer) and the type of soccer on the sand (beach soccer).

THE BEGINNING OF INDOOR SOCCER IN YUGOSLAVIA

By all accounts, the most realistic version is that the creator of indoor soccer in our country is Slobodan Stojanović (1923 -1992), professor of physical education in Belgrade, a member of the first generation that graduated from the former 'DIF', now the Faculty of Sport and Physical Education in Belgrade. He specialized in the football department.


Slobodan Stojanović, prof.

Many experts, who were then students and later became well-known players, played with him - Rajko Mitić, Selimir Milošević, Tomislav Milićević ...
Following handball, which was originally divided into big and small, soccer played on the small, handball court, was called indoor soccer by the professor Stojanović. It was in 1955. Therefore, it was him who shrinked the soccer field, "brought" soccer from a field, made rules and legalized it. The original rules didn't allow more than two touches and dribbling was eliminated. Later on the rules were changed so the game could be developed.

The creator of this game was often provoked by controversy in our public because of the inadequacy of indoor soccer in our "soccer" area. He often came into a situation to defend his invention with the statements recorded by the print at that time.

The creator's forecasts of this game were that it will develop and acquire its status.
The following years proved that he was absolutely right.
PLACE AND IMPORTANCE IN THE SYSTEM OF PHYSICAL CULTURE

Indoor soccer, as a sports game, has its place in the system of physical culture.
Its importance is multifunctional.

Practising indoor soccer through systematic physical exercises develops motor skills - strength, speed, endurance, mobility, agility, coordination. In terms of technical performance, indoor soccer requires a mastery of the ball and orientation in the situations in a small space.
With pleasures it gives (movement, dribbling, passing, goals ...) indoor soccer brings great result twists. Permanent twists (which are more frequent than in soccer) lead to development of adaptive mechanisms for students. Properly practiced in teaching physical education, soccer influences the formation of qualities such as - will, determination, perseverance, courage, persistence, adjustment of individual items with a unique attitude of the collective.
Trying to develop the mentioned characteristics without some activity that would be constantly refered to them, would be in vain.
Dimensions of personality that refer to communication, optimism, responsibility, unpredictability, persistence, striving for constant progression in the sport mastery, which can sometimes border on perfection, lie in the psychological structure of indoor soccer players.


SYSTEMATIZATION OF INDOOR SOCCER

Indoor soccer, as a sports game, can be systematized by the following criteria:

1. Purpose of physical exercise and competition
2. Rules and propositions



Systematization of indoor soccer according to purpose of physical exercise and competition:

1. SCHOOL
2. REGISTERED
- AMATEUR
- TOP-CLASS
- PROFESSIONAL
3. RECREATIVE

School indoor soccer is a significant link between physical education and sport and it contains characteristics of both areas. It is a part of the educational process, and with a serious approach, it may be the basis for the development of indoor soccer as a sport.
Registered indoor soccer means a kind of indoor soccer as the most organized segment of sport through organized competitions with regulated rules of the game, organization and team records. Registered indoor soccer, as the most organized segment of sport, is divided into three categories: amateur, top-class and professional.

Amateur indoor soccer is a type of registered indoor soccer, where a player does not receive any compensation for his effort. The essence is the desire for competition and companionship, so this category is the most common.
Top-class indoor soccer is a type of registered indoor soccer played by the most persistent, the most ready, the best among the best. The essence of this kind of sport is achieving top sports results by the players, valued at international competitions. Despite all this, these players are not professionals because of one simple reason – they can't make living for themselves and their families by playing indoor soccer in this way. And not to mention providing for a longer period of time.
Professional indoor soccer is a type of registered indoor soccer where a player engages professionally and for such engagement receives material resources that are sufficient for his life and future. Such a practice of indoor soccer involves contracts, for which a player receives certain amount of money, fixed monthly income, and usually not many rights. The one who provides financial resources, mostly, handles the player - professional. Because of its specificity expressed in great intensity and extent of physical and mental effort, professional indoor soccer has a relatively short duration and young and healthy people can play it.

Recreational indoor soccer is the indoor soccer for entertainment or indoor soccer for all (sport for all). It gathers and engages all those who feel the need for physical movement, regardless of age and physical abilities. In recreational indoor soccer, there is no selection and the result is not the primary one. Recreational indoor soccer, unlike the amateur, is not hierarchically structured, and it is primarily a policy of agreement that can be changed by action to action. Competition rules adapt to the participants, but also the material conditions in which they are organized.
Systematization of indoor soccer according to the rules and propositions:

1. FIFA INDOOR SOCCER

2. AMERICAN INDOOR SOCCER

3. SOCCER ON THE SAND

FIFA indoor soccer (Futsal) - the official kind of indoor soccer whose rules are recognized by the International Football Organization - FIFA.
American indoor soccer is a kind of indoor soccer that is played in the US. There were many professional indoor soccer leagues on this continent – MISL (Major Indoor Soccer League), CISL (Continental Indoor Soccer League), NPSL (National Professional Soccer League).
Soccer on the sand (Beach Soccer) is a kind of indoor soccer which is played on tournaments in summer on the sandy beaches around the world.


INDOOR SOCCER IN THE USA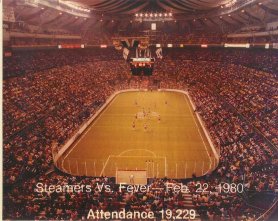 Insert from the game in 1980...

In the US, people started to play indoor soccer in 1978. American indoor soccer is played in the so-called hockey halls, in a completely different version (with different rules and propositions) from the European kind of indoor soccer, currently futsal.

American indoor soccer leagues are professional. Average attendance per game is 15 to 20 thousand people. A lot of foreign players have always played in them - Brazilians, Yugoslavs, Argentines, Italians, English, Spanish ...

This sport experienced great expansion in the period between 1980 and 1990.
In this period MISL, Major League Indoor Sooccer (great league of indoor soccer), was the meeting place for the best players from around the world.
Later on, there were two more indoor soccer leagues - NPSL and CISL.

A special stamp to American indoor soccer was given by the Yugoslav players, who, along with the Brazilian and Argentinian players, are the most respected in America. The following facts, based on the statistical data, are the evidence that the Yugoslav indoor soccer players are the best indoor soccer players in the world - in the ideal American indoor soccer team of the decade (the period from 1980 to 1990) out of six players,four of them were Yugoslavs:Slobodan Ilijevski, Mike Stanković, Srboljub Stamenković and Slaviša Žungul.

A great number of Yugoslav players played in the American indoor soccer leagues. The following players achieved the greatest sport successes:


Slobodan Ilijevski, the best goalkeeper in the USA, played for St. Lewis, the best goalkeeper of the American indoor soccer. Former goalkeeper of Vardar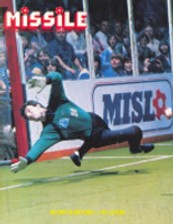 came to America in the beginning of professional indoor soccer and showed his quality in a short time. He managed to get on well and adapt to very different conditions where the goalkeepers face aggravating conditions, since the balls that go to the goal area don't end up in the out-of-bounds area or corner, but deduct from martinela and glass and go back into the field.

Mike Stanković, the Baltimore player, the best defensive player in America, won the US Championship in 1984. Defensive player with great transformations in the game and offensive roles. Basic characteristics of his style are: great defensive play and marking of the best opposing offensive players, moving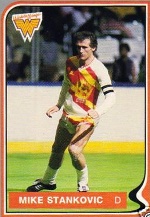 in space, rapid transformation into the offensive player who scores a goal or assists by equal kicks with both legs from a distance. Baltimore's legendary player.
His jersey number 5 nobody wears anymore in Baltimore.
Slaviša Žungul, the first scorer of the US leagues for many years, the offensive player, a typical fighter in indoor soccer, he played for San Diego, Takoma,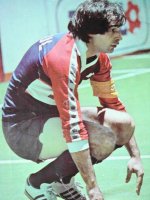 New York ... His main characteristics were speed, acuteness, feeling for the goal, he was often found in situations around the other goal post and solved them. San Diego, Takoma and other teams in which he played had great masters of this game, so his abilities came to full expression. He played with Zoran Karić, Branko Šegota, Preki Radosavljević ... On the basis of statistical data (number of points, goals and assists), he was declared the best player of the decade.


Srboljub Srba Stamenković,
player of Baltimore, won the US Championship in 1984. MVP of the All Stars games. People still talk about his performances. Those who watched him swore that he wa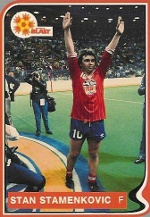 s the biggest indoor soccer player of all time. He had magic ... great technique, lucidity, imagination, free style, an incredible passion. It can be said that he eliminated automated movements, actions, dribbling in his style. He only relied on feeling, instinct, talent, the solutions that opened to him in a moment ... His talent and style were therefore a product of strong passion for this game, strong impulse of force and instinct... No one after him left stronger impression, though the incoming players were the world's largest masters of indoor soccer. Because of his attractive and virtuos game he is remembered as the greatest master of the American indoor soccer. Unfortunately, he became legend when he was 39. His jersey number 10 nobody wears anymore in Baltimore.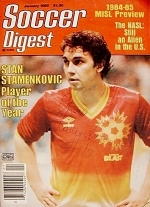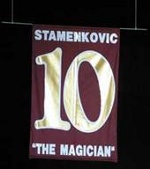 Branko Šegota, a great offensive player. He played for San Diego, Las Vegas, Baltimore ... Multiple winner of the USA Championship, a player with great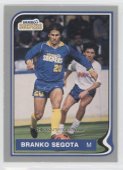 possibilities and perfect technique. Although he played in teams with very good offensive players like Karić and Žungul, his individual quality is more than evident and well-known. As a great player, he was often marked and subjected to gross attacks of opposing players..

Zoran Karić, a typical offshoot of our indoor soccer school in 1988 - Rookie of the Year, 1994. MVP. Brilliant offensive player, with excellent movement in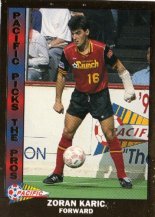 space, technology ... Player of San Diego, Cleveland. Multiple winner of the US Championship in indoor soccer, several times the NPSL and MVP in the following years.
Predrag Radosavljević, a great indoor soccer player, won the US Championship.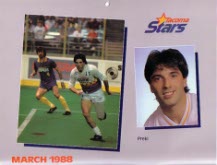 He played for Takoma, San Diego, San Jose.
He was declared the MVP player.
Champion, fighter with excellent game one to one. An excellent player.


Goran Hunjak, Washington player, the leader in the number of points in CISL.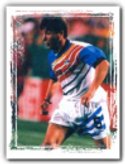 His main characteristics are:
good technique, mobility, but above all leadership. He was the leader of his team.

Nikola Vignjević appeared in the USA in 1995, a player in San Jose, and later Cleveland. The player whose style and potential fully justified what his predecessors: Stamenković, Stanković, Žungul, Preki Radosavljević, Zoran Karić, Branko Šegota ... have done, and perhaps even surpass some of them. The only best new player in the US - Rookie of the Year.
I will mention some other players who left a trail in the US soccer leagues, especially in their clubs: Nebojša Bandović, Drago Dumbović, Aleksandar Filipović, Fred Gregurev, Nikola Ristić, Rešad Kunovac, Zoran Savić, Tukša, Nikitović ...
Therefore, the quality and style of our environment, when this game comes to question, are more than recognizable and famous. Characteristics of all these players are: a free personal style, great passion and commitment to the team and game, good technique, the ability to improvise, collective spirit, imagination, more instinctive than automated movement in the game, various possibilities of resolving the situation in one to one game. In one word - expressed individual quality.

That's why the biggest experts of indoor soccer (most of them are coaches in America from England who, in their traditional understanding of indoor soccer, are not inclined to our style of play, but force play with long balls and we can say, in the absence of solutions, too often and needless, use martinela and glass) believe that our players have the most qualities in the world, even more than the South America's.